Our Mission & Vision
Working together we can do more. The mission of LRRBA is to work together to make disciples of Christ in Arkansas and throughout the world.
Bro. Kent Dixon and his wife Karol
E-mail:

rkdixon77@gmail.com
Kent Dixon was ordained at Central Baptist Church, Pine Bluff, AR. He grew up in a Christian home. His father was a Southern Baptist pastor in Southeast Oklahoma.
When he was six years old, his parents were appointed as missionaries t
o Braz
il. L
ater when h
e was in High
School they were assigned to serve as missionaries in Angola, Africa. He married Karol (Smith) Dixon on August 16, 1986. They have 2 sons and a daughter
Education: Bachelor of Arts in Religious Education: Church Ministries, from Oklahoma Baptist University, Shawnee Okla. Master of Religious Education: from Southwestern Baptist Theological Seminary , Ft. Worth Texas. Ministry Experience: Minister of Education & Youth, Central Baptist, Pine Bluff Aug, 1987-1998. Associate Pastor of Students Dec 1998-May 2018, Woodland Heights Baptist Church, Conway, AR.
Administrative Assistant
E- Mail:

lrrba@suddenlinkmail.com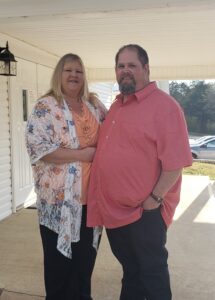 Amanda Bloxom Joined our team as Administrative Assistant
Aug 2022. She has
been part
of this association her
whole life. She is a member of Pleasant Valley Baptist Church. She has done everything from singing, to teaching kids, and leading the Youth Group. Growing up in a wonderful Christian home, her father Richard McDougal
(Pleasant Valley),
and grandfather Adolphus McDougal (Mcjester) were both Deacons of their churches.
She is married
to her wonder husband (Cory Bloxom) of 17 years, together they have 2 sons and a daughter.
Arkansas Southern Baptist Convention
Little Red River Baptist Association serves alongside the Arkansas Southern Baptist Convention. For more information about ARSBC visit

https://www.absc.org/
1325 Heber Springs Road S., Heber Springs, Arkansas 72543
501.362.7362 fax 501.362.2554